Curaçao is not just a beach, sun and sea destination. In addition to snorkeling, diving and sailing there is also the option of exploring the island on a bike. There are many beautiful, scenic mountain bike routes, through the salt ponds, along the rough Northern coast or over old plantation estates. These mountain bike routes provide new challenges and views every time you ride them. It is really worth the effort to explore and discover Curaçao on a bike.
The Mountainbike handbook Curaçao (in Dutch) sets out the different MTB and GPS routes. These routes are not always easy to find and follow: road signs are often missing. Therefore it's recommended to book a mountain bike tour. Experienced guides will take you to the most beautiful spots and can tell you about the nature and wildlife as well as the history of the area in which you are cycling. Mountain biking in Curaçao is also great with kids. It is also possible to join a training of one of the many local cycling clubs.
Dasia Cycling - Rent A Bike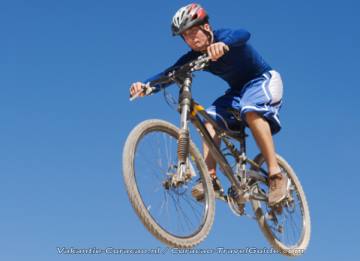 Visit Website
Dasia Cycling Curacao rents out quality bikes by Specialized. We offer both mountain bikes, Rockhopper, Crave, Stumpjumper, Camber and Epic, all 29er and tubeless, and road bikes, Specialized Allez Sport. Rent per day approx. USD 24,- (approx. € 22,-), per week starts at USD 130,- (approx. € 119,-)
WannaBike Mountainbike Tours
Visit Website
A WannaBike tour is a real 'Go Local' experience. You ride through the untouched nature, enjoy the beautiful vistas and in the meantime learn about the rich history of the island. Starts at USD 80,- (approx. € 73,54,-). Tour Times: 08:00AM - 11:00AM or 4:00PM - 7:00PM.
Tips for cycling in tropical conditions
Cycle in the early morning or late afternoon;
Always carry a phone with you;
Ensure that you carry enough water and drink plenty before going out cycling;
Use sunscreen on your skin and wear sunglasses;
For roadbikers: be aware that not all roads are in good conditions and traffic may be heavy;
Wearing a helmet is mandatory;
Don't cycle in the dark.