Snorkelen
Everyone can snorkel. However there are a few basic safety rules. The most important rule to remember is: Never touch coral! Good snorkeling spots include PortoMari, Playa Kalki, Tugboat, Klein Curacao and many more.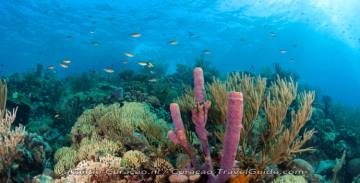 Snorkel Spots
How to Select A Snorkel Mask
Fit is the most important criteria in selecting a mask. So how do you buy a mask that fits? It's easy. Here's How:
Fold the strap over the front of the mask so that it is out of the way.
Hold the mask against your face.
Make sure it fits comfortably around your eyes and nose.
Choose another size if necessary.
While the mask is against your face, inhale through your nose.
The vacuum created in the mask should hold it against your face when you take your hand away.
If the mask doesn't stay put, repeat the process until you find one that does.
Tips:
Don't settle for an ill-fitting mask. If you find more than one mask that fits, compare the features before making your purchase or rental decision.
How to Clear Your Snorkel
There's no doubt about it. Water will get into your snorkel, whether you submerse yourself intentionaly or a wave splashes water into it. It's an important scuba/snorkel skill you need to know. Here's How:
Allow yourself to sink below the water until you face is just under the water.
Take a deep breath through your snorkel.
Hold your breath.
Completeley submerse yourself and your snorkel in the water.
Rise to your original position.
Blow a sharp blast of air through your snorkel.
Slowly inhale to see if there is still water in it.
If there is still water in the snorkel, blow another short blast into it.
When the snorkel is clear, continue to breath normally through it.
Tips:
Try not to exhale all your air on the first blast. When checking to see if the airway is clear don't suck in a huge gulp of air. Do it slowly. Perfect this skill in a swimming pool first!
Snorkel Trips and Tours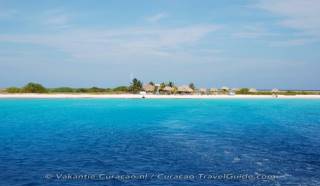 View website
Mermaid Boat Trips Snorkelplek Klein Curacao
Far away from the hustle and bustle of Curaçao's Punda and Otrobanda districts lies a remote, coral island with white sand beaches, crystal clear water, a spectacular reef and colorful sea life. The flat, wind-swept island of Klein Curaçao (Dutch for Little Curaçao) is a mecca for divers, snorkelers and sunbathers.